Former Cast
NAME
: Katherine Morrison (Goes by Kate)
AGE
: 17
SCHOOL
: West Seattle High
JOB
: Unemployed
PERSONALITY
: To wrap it all up, Kate is a snotty, rotten, rich-bitch. She's known to West Seattle as the "gossip girl", knowing everybody's secrets. Under no circumstance are you 'safe' from the rath of Kate Morrison. Through the years she's been known to plot against students who are seemingly her friends. Though she is not the leader of the popular pack, she does give off the impression once in a while. Besides the fact, she's coniving, cruel, and down right two-faced. To the popular boys, she is a seductress, completely manipulative, a reason their not interested. Never underestimate the power of Kate, though, for she is powerful beyond belief.
HISTORY
: Kate was born to Tracey Devila and Gage Morrison on October 12, 1989. He father was the owner of an extremely successful oil company, Morrison Interprises. Growing she was treated like a princess, always getting anything she wanted with the wave of her hand. None could say that Kate is shallow though, because she's extremely intellegent, and anything but a shady rich heiress. She refuses to give off that impression, and comes off as a strong young woman, trying to find herself. Out of the popular girls, Michelle may actually be the nicer one. Don't get the wrong impression, she's a total witch, but she's less likely than the rest of the gang to always be on your case, possibly because she's only concerned about herself once in a while.
RELATIONSHIPS
: Hates Devin; Has a crush on Linc; Best friends with Danielle.
TB
: paper craned lovers
PB
: Daria Werbowy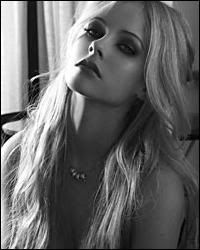 NAME
: Marissa Kettering. Sometimes Riss, if you're lucky.
AGE
: Seventeen
SCHOOL
: West Seattle High
JOB
: Local Bowling Alley
PERSONALITY
: Elegant, Intelligent, Mature, and a little quirky.
HISTORY
: Marissa Kettering is son to Frank and Juliet Kettering, which means she wasn't ever really without. Her father was a pretty well-known film producer back in the 80's, and the money kept rolling in ever since. Frank and Juliet weren't exactly 'a match made in heaven', considering Juliet married Frank for the money. Once he retired, Juliet divorced him, taking her baby Marissa and half of his earnings with her. Marissa sees him from time to time, but they aren't really that close. Marissa fancies her mother a lot, however. Marissa is obsessed with fashion, and you'll often tell that her clothes have gone through a major thought process. She's artistic, and sometimes moody, but she has her special quirks.
RELATIONSHIPS
: TBA
TB
: paper craned lovers
PB
: Avril Lavigne
NAME
: Aaron James Roland. AJ
AGE
: 17
SCHOOL
: Chief Sealth High
JOB
: Works at Pepperdocks
PERSONALITY
: Fun, Organised, Temperamental, Intelligent
HISTORY
: AJ is what you would call a momma's boy. He is really close to his mother and he would do anything to please her. He moved to Seattle 3 years ago from Chicago because she got a job as a high flying CEO of this really big company. So AJ, along with his mom, dad and siblings, moved there and he has never looked back.
RELATIONSHIPS
: Good friends with Ivan Schaffer; Indifferent about Drake Wilson; [Sorta] crushing on Kate Morrison.
TB
: ChaChaPrincess
PB
: Tyler Hoechlin
NAME
: Lila Shelton
AGE
: 16
SCHOOL
: Chief Sealth High (Junior)
JOB
: You've got to be kidding.
PERSONALITY
: Stubborn. Meticulous. Apathetic. Outspoken.
HISTORY
: Lila Shelton is the only daughter of legendary music producer and label exec David Shelton, who was highly instrumental in bringing the Seattle music scene to life back in the 1990's. Wealthy and connected, Lila is next in line for the crown of Chief Sealth's queen bee, a title that she already believes is hers for the taking if she wanted it. For now, she's perfectly content being the only junior who is legitimately welcomed into the social circle of the gorgeous and popular.
RELATIONSHIPS
: Crushing on Dominic Denneo. [Sorta] Friends with Adriana King and Kristin MacMillan. Ex-girlfriend of Jason Karr.
TB
: mizzae
PB
: Miranda Kerr
NAME
: Caleb Alexander
AGE
: Eighteen
SCHOOL
: Chief Sealth High School
JOB
: Rite Aid Drug Store Courtesy Clerk
PERSONALITY
: Belligerent, Introspective, Reckless, Solitary.
HISTORY
: A recovering alcoholic, pain-killer addict, and petty drug peddler, Caleb is Chief Sealth High School's resident screw up. Or rather, he was. Thanks to the intervention of friends and a strangely benevolent probation officer, Caleb's gotten his life back together and is trying as best as he can to keep from spiraling out of control again. His widowed father who had been too engrossed in his grief over his late wife was oblivious of his son's bad habits until they were staring him in the face, and now takes an active role in his son's life, including getting him a job at Rite Aid where he can keep a steady eye on him.
RELATIONSHIPS
: Best Friends with Drake Wilson, works with Dominic Denneo, inexplicably infatuated with Marissa Kettering. (more welcome)
TB
: FAIT_Accompli
PB
: Daniel Bruhl
NAME
: Aurelie Garrel
AGE
: Nineteen
SCHOOL
: Art Institute of Seattle
JOB
: None.
PERSONALITY
: Capricious, Idiosyncratic, Pensive, Sophisticated.
HISTORY
: Aurelie spent the better part of her life born and bred in the French country side, and educated by the best tutors money can buy. Born to a quasi-famous French Linguist and a Norwegian fashion designer, what little fame she might have enjoyed was nullified when they moved to the States two years ago. Aurelie adjusted as well as any pretty face with a foreign accent could, but opted to attend college close to home and her then-boyfriend. After a brief brush with life in the fast lane, Aurelie now enjoys quieter nights in the company of her art, a good Merlot, and classical music of the Romantic era.
RELATIONSHIPS
: TBA
TB
: FAIT_Accompli
PB
: Ludivine Sagnier
NAME
: Sebastian Ambrogino
AGE
: Twenty-one
SCHOOL
: University of Washington; Art Institute of Seattle
JOB
: None. Accepting his parents' money without asking questions, if that counts.
PERSONALITY
: Charismatic. Roguish. Buoyant. Schooled in the arts of being a BAMF.
HISTORY
: Born to a ridiculously successful Italian-American restaurant monopolist, Dante, and a French artist, Linette, the one and only heir to the Ambrogino empire grew up quickly -- and lucratively -- being instilled with the honest good morals of arrogance and self-preservation. High school came and went, a blur of scrapes and moderately amusing conquests. Soon enough, Sebastian found himself on the doorstep of life with no parents, made good use of such on their dime for the better part of two years, and now attends both UW and Art Institute of Seattle to acquire his Bachelor's in Creative Writing and his Associate of Applied Arts in Photography -- respectively. Besides the hobbies made obvious by the aforementioned choices in life direction, he enjoys sex, speaking three languages (Italian, French and English), sex, reading, more sex, reading while having a cigarette, and sex. Depending on the rating given, possibly a cigarette after it as well.
RELATIONSHIPS
: Has it out shamelessly for Aurelie Garrel. (Open for the rest)
TB
: The Fifth Element
PB
: Guillaume Canet
NAME
: Atiyana Moretti. Ana is fine.
AGE
: Nineteen
SCHOOL
: Cornish College of the Arts
JOB
: Works as a waitress at Ovio Bistro
PERSONALITY
: Novel. Winsome. Incisive. Forthcoming.
HISTORY
: From a young age, Ana had aspired to become an advocate for the arts -- it was her world. Her mother, Lorraine, was a dancer, and Ana's number one inspiration until her untimely death from breast cancer. Having been without a father figure since before she could remember (chronologically since she was two), her grandparents took her in from then on and raised her until she graduated from high school. Which she did, with honors and, notably, a scholarship to the Cornish College of the Arts for both Dance and Music (she mostly wants to become a cellist). Her other interests include blogging, eating junk food, and geeking over Guy Ritchie films, as well as other British Cinema.
RELATIONSHIPS
: Works with Travis Kelton. Finds Dom Denneo attractive. Other than that, TBA (Open).
TB
: The Fifth Element
PB
: Jessica Alba
NAME
: Noah Eager
AGE
: Twenty-One
SCHOOL
: Sophomore at University of Washington
JOB
: Part-Time Drag Queen at The Men's Room
PERSONALITY
: Affable, Extroverted, Gregarious, Sarcastic, and Vivacious.
HISTORY
: Out, proud, and obnoxiously so, Noah Eager is someone who can easily differentiate between lavender and periwinkle, name every Cher album in descending order, and, further, recite nearly every lyric of every song of the aforementioned and Noah-dubbed, Queen of All Queens. Raised by a single mother who heads a quaint coffee shop a floor below their apartment, Noah Eager was almost always surrounded by a blithe and facile sort of environment that allowed him to grow into his own person without any extraneous pressure of moral or virtue; by the age of fourteen, Noah felt no pressure when he came out to his mother. Furthermore, Lindy Eager took her son's proclamation with a grain of salt: if anything and until this very day, Lindy is the most supportive of her son's lifestyle and even attempts to pick out potential future husbands for Noah -- Noah habitually relinquishes his mother's good intentions, but nevertheless.
RELATIONSHIPS
:
TB
: superbear
PB
: Lee Ryan